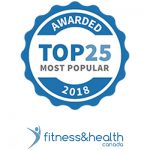 We just heard from CanadianFitnessAndHealth that we've received the Top 25 Most Popular Award for 2018! Not only did we rank first within Vancouver and within the province, but our rankings also placed us within Canada's top 3. We couldn't be prouder!
Thanks to our team and all of our amazing clients, here are the awards we won in 2018:
Thank you to CanadianFitnessAndHealth for listing us among the Top 25 Most Popular Health and Fitness Services for 2018. And most importantly, thank you to all of you for making this happen.