Registered Massage Therapy
Why Registered Massage Therapy for Your Health and Well-Being?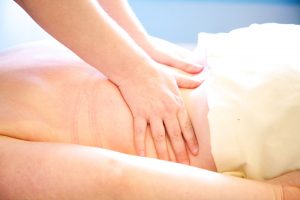 Therapeutic massage is used to treat a wide range of acute and chronic health conditions, and is also an important preventative care measure to optimize health in people of all ages. Armed with a wealth of knowledge on physiology and anatomy, a BC RMT implements different massage techniques to relax your muscles and heal aches and pains, leading to a multitude of health benefits. Patients who have regular massage treatments find RMT services to be beneficial for day-to-day functioning as well as injury and disability rehabilitation. For athletes, sports massage therapy is especially helpful for performance, mobility, coordination and reflexes.
Benefits of Massage with a Registered Massage Therapist
Provides relaxation
Improves circulation and lymphatic drainage
Decreases chance of injury
Promotes more restful sleep
Allows you to exercise more comfortably
Enhances joint flexibility
Reduces stress, which can help with anxiety and depression
Lessens muscular tension
Relieves or eliminates pain
Softens overused and tired muscles
Slows down rigidity from the natural aging process
Cuts down recovery time for athletes and surgery patients
British Columbia Registered Massage Therapist (BC RMT) Health Coverage
Extended Health Plans – We can direct bill your provider for registered massage therapy
These plans are offered by employers which provide benefits for most of our services, including massage therapy. Plans vary either by percentage covered or annual total limits.
Private Paying
or
Extended Health Plan Coverage
Only offering 60 minutes at this time
All treatments include the following: Administration, Assessment, Evaluation, Treatment & Home Care
90 min. treatment 
75 min. treatment
60 MIN. TREATMENT $130 ONLY OFFERED AT THIS TIME
45 min. treatment (Not offered at this time)
30 min. treatment (Not offered at this time)
If you have an Extended Health Care plan through work, you may be covered for up to 100% reimbursement of your registered massage therapy treatment cost. Ask us how!
Motor Vehicle Accident
With ICBC approval
Initial 60 minute treatment – patient pays $11.35
Subsequent 60 minute treatment – patient pays $40.75
Subsequent 45 minute treatment – patient pays $10.75
Subsequent 30 minute treatment – patient pays $0
** The amount charged to patient cannot be recovered from ICBC. You can claim this through your extended health plan if you have one.
** Within 12 weeks of the date of the accident causing the injury
Notes:
ICBC funds under accident benefits (indicated above), does not cover the whole amount of treatment costs, so the patient will be responsible for the remaining amount. The patient will not be able to recover the remaining fees from ICBC for claims with a date of loss on or after April 1, 2019. This will mean that the patient is responsible for paying the remains amount, which they may submit to their private health insurer for consideration of coverage.
Treatments are based on sessions provided and fees reflect fair market rate for a standard industry visit. Treatment frequency will be based on clinical recommendations and should reflect best practice.
No Physician Referral Is Necessary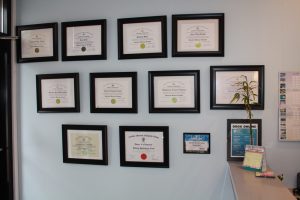 Referrals are no longer required to find RMT services or see a Registered Massage Therapist. However, some Extended Health Plans may require a Referral from the doctor prior to massage therapy or sports massage therapy for the BC RMT expense to be eligible for reimbursement. We do recommend that you research your Extended Health Care coverage to determine what, if any, guidelines are in place for your massage treatment expenses to be eligible.
Frequently Asked Questions
What Payment Methods Are Accepted for Registered Massage Therapy?
Visa
Mastercard
Debit
Cash
What Should I Know Before My Massage Treatment?
To enjoy your massage experience to the fullest, we recommend you arrive only a  minute or two prior to your scheduled appointment as the door is locked. To keep the serenity of the Centre we ask that you turn off your cell phone upon arrival or leave it in your vehicle.
What Should I Wear?
When receiving a massage from a registered massage therapist, we recommend loose clothing be worn to allow for maximum mobility where necessary. In order to achieve the best results, it will be necessary to remove some clothing to allow for deep tissue manipulation. For example, patients who are having massage treatment for back ailments will need to remove their upper garments. In all cases, patients are draped with a sheet to maintain privacy and comfort and only that area requiring attention will be left uncovered.
Should I Eat or Drink Before or After?
Try not to eat for at least an hour before a massage treatment, and avoid the consumption of alcohol on the day of a treatment. Also remember to drink plenty of water before and afterward.
What Should I Know About Medication?
It is important that your perception of depth and pain during a massage or other treatment is not altered by medication such as pain killers or muscle relaxants. Please try and refrain from taking these on the day of your registered massage therapy.
What If I Have Health Concerns or Am Pregnant?
Some treatments may not be advised or may need to be altered if you have any health issues or are pregnant. Please consult your physician or discuss with your BC RMT at the time of booking so we may help you make appropriate choices. Also, it is important to communicate any health concerns to your registered massage therapist.
What Can I Expect on My First Visit?
Click here to view a video about what you can expect in your first appointment with an RMT.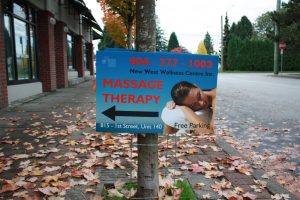 During your initial visit, we will go over your intake form that you filled out online and your RMT will interview you to find out more about your symptoms. The registered massage therapist may also perform some range of motion and other tests to pinpoint your problem. Once completed, your RMT will discuss with you their findings as well as a treatment plan for registered massage therapy or sports massage therapy.

 Once you consent to the treatment plan, the RMT will leave the room so you may disrobe and lay down on the massage table between a set of sheets. Treatment is often most effective if techniques are applied to bare skin. You will be draped with a sheet at all times and only the area being directly treated will be uncovered. It is ALWAYS your right to leave on as much clothing as makes you comfortable. After the treatment, the registered massage therapist may reassess you to evaluate the treatment provided and to note improvement. They may also discuss with you stretching and strengthening exercises for you to perform at home as well as using ice and/or heat and possible changes in routine that aggravate your injury.