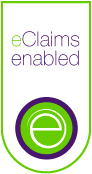 Whether you need a massage, acupuncture, naturopathic, or chiropractic appointment, you can eliminate your nearly all of your insurance paperwork when booking with New West Wellness. eClaims covers 85% of privately insured Canadians, and offers direct billing to 10 major insurers.
How can eClaims make your visit easier?
Reduce your out-of-pocket expenses.
Eliminate insurance paperwork.
Ask us to submit your claim at your next visit to New West Wellness Centre!